Mobile Payments for Businesses: Is It Time to Step Up?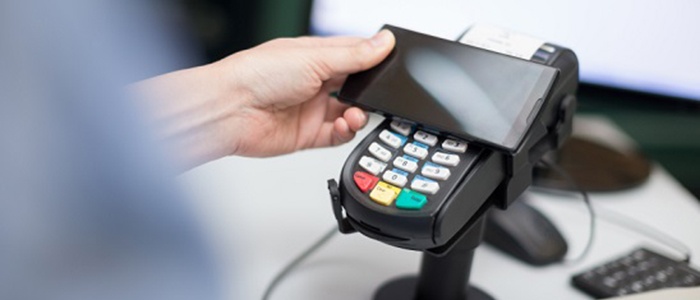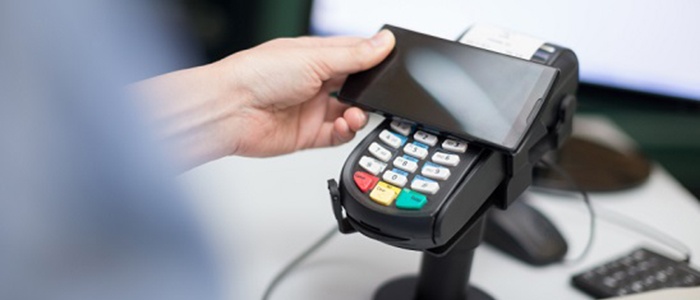 Are you still wondering if mobile payments are going mainstream? Financial technology, otherwise known as FinTech, continues to grow. While businesses have been hearing about mobile payments for years, it appears the adoption rate is picking up steam. A trend report from the market research firm Gartner predicts mobile commerce revenues will grow to half of U.S. digital commerce revenue by 2017. Sooner rather than later, businesses of all sizes will allow consumers to pay for their purchases with their cell phones and other smart devices.
Why should businesses offer mobile payment options? It's convenient, efficient, safe and, in many cases, the fees for mobile payments are less expensive than credit or debit card transactions.
In addition, the ability to accept mobile payments is also beginning to give businesses a competitive edge. A recent survey from Auriemma Consulting Group showed that 42% of iPhone 6 and iPhone 6 Plus owners have used Apple Pay and 70% of Apple Pay users are more likely to choose a store that accepts Apple Pay. Bloomberg reported that Apple Pay's in-app purchase volume more than doubled in the last six months of 2015, compared to the first six months of the year.
How Mobile Payments Work
What do small businesses need to know about accepting mobile payments? Put simply, most mobile payments allow customers to make quick and convenient purchases using smart phones enabled with near-field communication (NFC) chips. By loading debit card and credit card information onto these devices, customers can complete transactions at brick-and-mortar stores or within apps on their phone.
The field of providers is growing rapidly. They include cell phone and tech companies like Apple Pay, Android Pay (formerly Google Wallet), and Samsung Pay as well as FinTech start-ups like Venmo, Stripe, LevelUp and Square Cash. Even Facebook is jumping in with its Messenger payment system.
Mobile Payment Business Models
Like credit and debit card transactions, the convenience of mobile payment processing comes at a cost. Businesses usually pay some sort of fee per transaction. Depending on how the transaction is processed, it may be a flat fee or a small percentage of the total purchase. There may be discounts on volume and other exceptions to the pricing structure as well.
It may be tempting to go with whichever system seems the most popular with your customers, but it is important to consider your business category and needs. What works for a contractor that regularly encounters large invoices most likely won't make as much sense for a dollar-store that deals with smaller transactions.
Is Your Technology in Good Shape?
Your customers may have all the technology needed to pay for their purchases via their smart phone, but is your small business ready to receive it? You need to have up-to-date point of sale (POS) technology that accepts credit cards and NFC, the technology that enables customers to make payments using their smartphones. Although costs vary by business, Blue Pay estimates that small businesses may spend anywhere from $1,000-$2,000 after factoring in hardware, software and wages.
While this may seem like just more technology to worry about, it's actually a very smooth and secure system once all the pieces are in place. This paperless system often uses touch ID technology and generates a unique code for each transaction, which improves security and speeds up transactions. Like any online transactions, there are risks associated with accepting online payments and fraud has occurred. Businesses that choose to accept mobile payments should take all recommended fraud prevention steps to protect both themselves and their customers.
Up Your Invoicing Game
The best part of a mobile pay transaction is that it is quick and easy for both the consumer and the business. However, businesses that need to create a significant number of mobile payment invoices may benefit from easy access to their transactional data. By working with a bank that can provide treasury management services, business owners have access to export data to Quicken, QuickBooks, CSV, or XLS format giving them great flexibility.
At Lincoln Savings Bank, we understand that payment processing is only a small piece of the puzzle. That's why we're always adding online business banking tools to help increase efficiency. Need quick, convenient access to business capital? Check out our online Business Lending Network and see how you can connect with one of 130 lending partners. Or if you have other business banking needs, please contact us today at bln@mylsb.com or one of our many Iowa locations.
Lincoln Savings Bank, Member FDIC
Sources:
"Gartner Says By 2017, U.S. Customers' Mobile Engagement Behavior Will Drive Mobile Commerce Revenue to 50 Percent of U.S. Digital Commerce Revenue." Gartner.com. 28 Jan. 2015. Gartner, Inc. Web. 20 Jun. 2016. http://www.gartner.com/newsroom/id/2971917
"I'm A Small Merchant – What Will Apple Pay Cost For Me To Get Up And Running?" Bluepay.com. 6 Mar. 2015. BluePay Processing, LLC. Web. 20 Jun. 2016. https://www.bluepay.com/blog/im-small-merchant-what-will-apple-pay-cost-me-get-and-running/
Kharif, Olga. "Apple Pay Locations Reach 2 Million, With Chick-Fil-A to Com." Bloomberg.com. 3 Feb. 2016. Bloomberg L.P. Web. 20 Jun. 2016. http://www.bloomberg.com/news/articles/2016-02-04/apple-pay-locations-reach-2-million-with-chick-fil-a-to-come
Faulkner, Cameron. "What is NFC? Everything you need to know." Techradar.com. 17 Nov. 2015. Future US, Inc. Web. 20 Jun. 2015. http://www.techradar.com/us/news/phone-and-communications/what-is-nfc-and-why-is-it-in-your-phone-948410