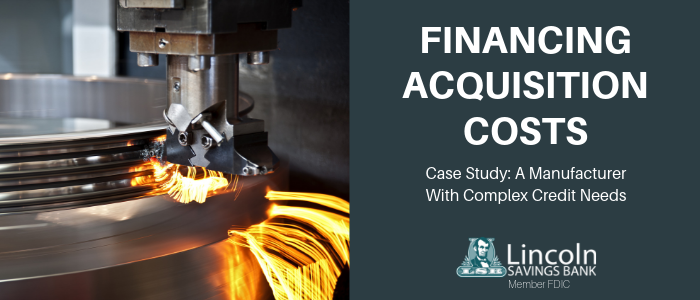 Situation
An Original Equipment Manufacturer (OEM) in Wisconsin was looking to acquire another OEM in South Carolina. The South Carolina company was the American subsidiary of a Danish company that was in bankruptcy, and the Danish bankruptcy court was forcing the parent company to sell its American assets to pay Danish creditors. For the Wisconsin manufacturer, this was the perfect opportunity to acquire a similar-sized company with a lot of business synergies for an outstanding price.
Challenge
The Wisconsin manufacturer needed a $10 million credit facility to seize this opportunity:
$3.2MM to acquire the company
$3MM line of credit
$2MM to refinance existing real estate
$1.4MM to refinance non-real estate debt
$400,000 for working capital
The problem was – the collateral position was only $300,000. The company had enterprise value, but not much collateral to secure a loan. Other lenders they talked to were only willing to finance the $300,000 that could be backed with hard collateral. For the remainder, those lenders wanted the company to use alternative financing like subordinated debt or mezzanine financing.
Because OEMs have slimmer margins, it didn't make financial sense to pursue high-cost alternative financing. The level of risk it would add to the transaction was not acceptable to the manufacturer.
Solution
The OEM needed a lending team that could address the complex needs of this transaction. Through Lincoln Savings Bank's partnership with Vital Financial Services, a lending service company specializing in government loan programs, they were able to meet the manufacturer's full spectrum of credit needs. Vital orchestrated participation for Lincoln Savings Bank, along with 2 other banks, to put together a comprehensive $10 million credit package without introducing additional risks. Lincoln Savings Bank extended $5 million through an SBA 7(a) loan to cover the acquisition cost and refinance of nonreal estate debt. The guarantee provided by the SBA mitigated for the lack of collateral.
Result
The Wisconsin manufacturer was able to move forward with the acquisition, expanding its customer base and growing revenue from $18 million to $30 million. Now that the acquisition is complete, they are focusing on implementing LEAN manufacturing techniques to continue improving profitability. Through streamlining processes and inventory management, they were able to generate $1 million in cash to support the growth of the total organization without having to borrow additional money.
Lincoln Savings Bank understands the unique needs of commercial & industrial businesses and is eager to help businesses with customized credit solutions like this one. Click the "Start Now!" button below or call (319) 874-4250 to chat with us about your needs to support future growth!