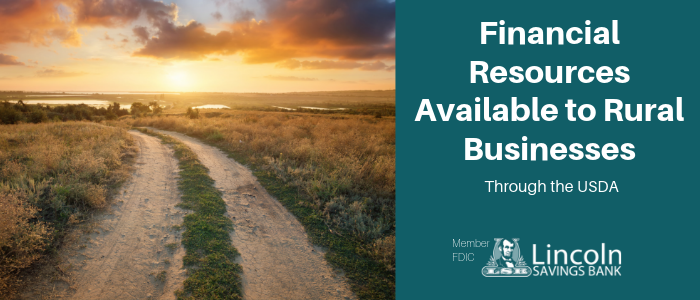 When a business needs financing, the U.S. Department of Agriculture (USDA) probably isn't at the top of the list for resources.
However, if your business operates in a rural area (or wants to) – USDA Business & Industry loan program may be a great option.
Rural development is part of the mission of the USDA, so it has created programs specifically to stimulate business creation and growth. One of the least known, and perhaps most significant programs is the USDA Business & Industry (B&I) loan guarantee program. The B&I loan guarantee program is designed to strengthen the availability of private credit to rural businesses and is differentiated from the Small Business Administration (SBA) loan programs due to the features and requirements listed below.
You must be in a rural area.
To be eligible, your business must operate in an area with a population of 50,000 or less. This doesn't include suburbs connected to a metro area with more than 50,000 people. Your business headquarters may be located in a larger urban area as long as the project being financed is in a rural area.
The government is not the lender.
Private lenders, like Lincoln Savings Bank, partner with the USDA to offer the B&I loan guarantee program. The partnership helps offset some of the risks associated with lending to businesses in rural communities, so those businesses have access to financing needed to grow.
We are the lender and main point of contact, but the USDA provides a "guarantee" that represents a percentage of the loan amount. This functions like an insurance policy in the instance of a loan default. A guarantee does not mean a business has any less obligation to repay its loan. Borrowers must demonstrate realistic repayment ability, pledge collateral, and offer personal guarantees.
Your business can be any size.
Eligibility for a B&I loan is extensive, and businesses are not subject to size standards as with SBA loans. A large, publicly traded company can receive a B&I loan. In fact, large companies that operate in small towns often receive the most benefit because they have high financing needs that can be difficult to collateralize. For example, a manufacturer may need $5 million to expand its facilities, but because of the rural location, the building may only garner a fraction of that during liquidation. Absent the USDA loan guarantee, financing the full $5 million would be too risky for the bank.
B&I loans may offer more favorable terms.
Your business may find itself able to secure a greater amount of credit with longer terms. Borrowers often find the interest rates to be very favorable – particularly when compared to other forms of alternative financing. B&I loans can reach up to $25 million and the repayment terms can be more extended than a conventional loan. This offers a huge benefit when it comes to lowering monthly payments and helping a business maintain positive cash flow.
Lincoln Savings Bank understands the financial resources available to rural businesses through the USDA, and how to create the most beneficial credit solutions. Contact us to find out if a USDA B&I guaranteed loan might make sense for your business.