5 Reasons an SBA Loan Might Benefit Your Business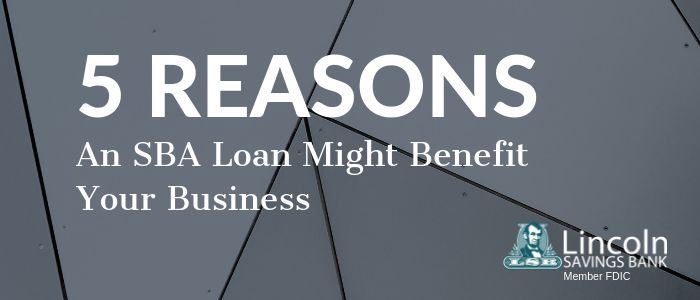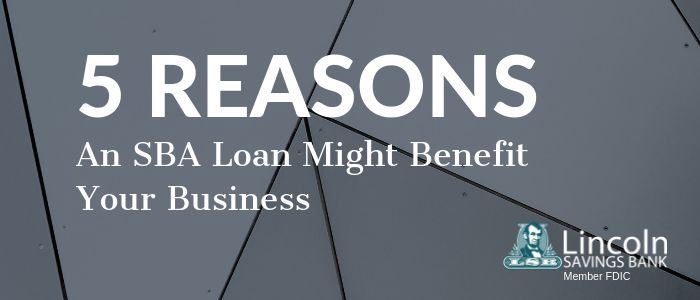 Not every business will qualify for a conventional bank loan. The reasons are varied and may include situations such as a lack of physical collateral or seasonality of revenue.
For businesses that have had troubles qualifying for a conventional loan, there is good news! Financing options still exist that don't require a business to look for financing outside of the banking industry. While it may sound appealing to look at alternative lending sources that don't involve a bank, there are downsides to those types of loans.
Recognizing that there are gaps in the business credit marketplace, the U.S. Small Business Administration (SBA) offers loan programs that support banks in lending to small businesses. The definition of small business varies by industry but may include businesses with more than 1,000 employees!
Here are five key advantages to an SBA loan:
You can obtain a loan with low or no collateral. Most conventional commercial loans are secured with collateral such as real estate or equipment, which mitigates risk for the lender in the instance you are unable to repay the loan. An SBA loan offsets a lack of collateral with a guarantee from the U.S. government.
You can finance working capital. SBA loans offer more flexibility with how you can use the loan proceeds. You can fund unsecured permanent working capital items that include the start-up of seasonal operations, rapid growth, inventory purchases, payroll and overhead expenses.
You can preserve cash flow with longer terms. SBA loans offer longer terms, which allow for lower monthly payments and better business cash flow. Preserving cash is important for weathering the ebbs and flows of the business cycle and ensuring you have the resources available to make investments in your business without overextending a line of credit.
You can access a lot of capital. If your business is a heavy credit user, you'll be glad to know there is a lot of capital available through guaranteed loan programs. You can access up to $5 million through the SBA 7(a) loan program. Those with ongoing credit needs and a good credit history can come back at a later date for subsequent SBA loans.
It's often the lowest-cost credit. The growth of financial technology in recent years means that there is now a new arena of nonbank lenders that companies can turn to for fast capital. But – it can come at a cost. The interest rate advantage of SBA loans almost always makes it a better deal for long-term financing, saving companies thousands of dollars over the long run.
Wondering if an SBA loan is a good fit for your business? Let's talk about your needs. Fill our our contact form or give us a call at (319) 874-4250.