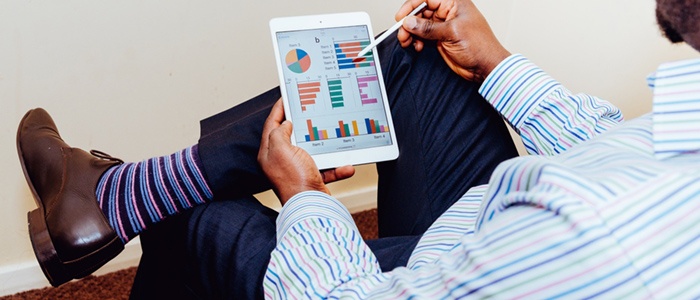 When you can't raise your prices, the best way to improve your margins is to reduce your costs. Using technology to improve efficiency and productivity is one of the fastest and most effective ways to boost the success of your business.
In particular, online tools provide opportunities to maximize the efficiency of your business operations, saving time and increasing your profitability. Here are five free or inexpensive tools to save time and stay organized in business.
1. Keep in Touch on Skype
Whether your meeting requires a video call or just audio, Skype is a great way to collaborate with colleagues and customers wherever they happen to be. With the free version of Skype, you can gather up to 25 people on a call, using either mobile phones or landlines.
2. Everydollar.com Will Keep You Budget-Focused
Business success is dependent on revenue being higher than expenses. Every dollar does count in a small business, so it's important that you can easily track every dollar you spend. The software is free unless you hook it directly to your bank account. While the tool was created for personal finance, it can definitely be useful in budgeting for your small business.
3. FreshBooks Cloud Accounting Helps You Collect Revenue
Once your business is off the ground, efficient billing processes are critical to running an efficient business. FreshBooks Cloud Accounting can help your company send email and traditional mail invoices, track invoices and monitor late payments. Once your free trial with FreshBooks is over, there is a small monthly subscription fee. Automating your billing process with an online tool will help you spend less time trying to collect and more time earning funds.
4. Use Square and Get Paid Anywhere
Square is a credit card processing gadget and app that allows business owners and organizations to swipe credit and debit cards wherever they do business. If you have a cellphone, you can use Square to collect payments from customers on the jobsite, at a tradeshow, or in your store. Square is FREE to install, but there is a fee per transaction, comparable to a credit card transaction fee.
5. Trello Helps Businesses Stay on Task
Staying organized is a daunting task when your to-do list grows out of control. Trello is a free project management app to help groups and individuals share information, get organized and plan efficiently. You can share task boards and assign tasks to other people in your company, make notes on each task, set deadlines, move tasks to a new column to track, and archive tasks or entire projects when complete. This handy tool will even send an email to other users when tasks are moved, reassigned or notes are made.
You Don't Have to Break the Bank to be in Business
Whether you are just starting out or if you run an existing business with a handful of employees, using free and inexpensive online productivity tools will save you time and money.
Need quick, convenient access to business capital? Check out how our convenient Business Lending Network works works and see how you can request business loans online. Or if you have other business banking needs, please contact us today at bln@mylsb.com or one of our many Iowa locations.
*Lincoln Savings Bank offers these online tools as suggestions to small business but in no way endorses the companies or their products.